We are witness to a trend of electric vehicles. As it catches on, car values on the secondary market are in a steady decline. More and more people are considering buying electric vehicles. The reasons are that this type of transport reflects the social status of its owners and highlights ecological responsibility and economic awareness that contribute to our future.
At the same time, many electric vehicle lovers are concerned with car values since it may be really costly to buy a recently manufactured automobile. The best option here is to consider purchasing a used one. To help our readers, the ClearVin specialists decided to research the best used electric car values for 2022, provide information about some key online platforms for valuing a used car, and reveal some specific aspects concerning vehicle values.
NADA Used Car Value

During our research, we have referred only to reliable and trustworthy data sources, particularly the NADA used car values online solution. This is a comprehensive resource from our partners and a widely recognized analytic company called D.J. Power. This used car value guide has been in the automotive research sphere for over 80 years, which makes the NADA informational platform a leader today. The main benefit you will get when using the aforementioned service is a continual flow of price data. It means you will always be up-to-date when it comes to used car values.
When searching for the NADA used car values, pay close attention to four pricing categories that need to be understood by every NADAguides user:
Rough Trade-In. This used car value group reflects the price of electric vehicles that have mechanical damage and bad interior condition or paintwork. As a result, such automobiles need to be repaired.
Average Trade-In. Here you will find the vehicle value of a car with minor defects and in average condition. It needs to be repaired to pass all the inspections.
Clean Trade-In. It is the used car value assigned to any vehicle in clean condition and without mechanical damage or interior defects. It can pass the appropriate inspection.
Clean Retail car value status means that a vehicle is in clean condition, with a clean history, and can pass any inspection.
Understanding these four used car value categories will help you find the most appropriate electric vehicle that meets your requirements.
The Best Used Electric Car Values by NADAguides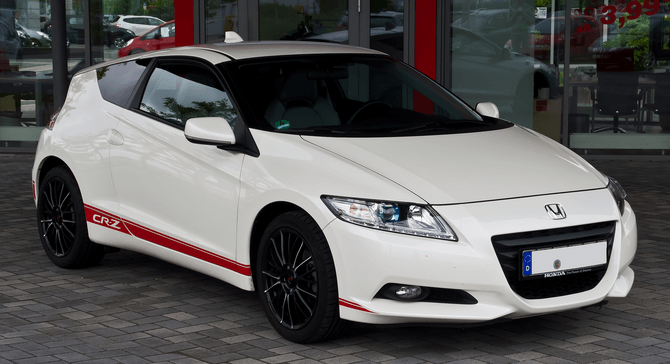 Using the NADA used car value calculator, you can choose from different categories of vehicle types, for example, SUV, truck, sedan, and so on. As we are interested in the best used electric car values for 2022, the price category "Under $15,000" was chosen. The most logical option here is to conduct a car value lookup by applying the Manufacturer's Suggested Retail Price filter from the least to the most.
In the outcome, we have received the following best electric car value rating:
1. 2011 Nissan Leaf 5D SL Hatchback with the following car values:
Rough Trade-In: $2,000
Average Trade-In: $2,775
Clean Trade-In: $3,400
Clean Retail: $5,375
2. 2014 Smart Fortwo Coupe 2D Pure I3 has the next value of a used car:
Rough Trade-In: $3,275
Average Trade-In: $3,100
Clean Trade-In: $4,775
Clean Retail: $6,950
3. 2011 Honda CR-Z Coupe 2D has the following estimated car value:
Rough Trade-In: $3,825
Average Trade-In: $4,700
Clean Trade-In: $5,400
Clean Retail: $7,550
As you can see, any electric car lover can find something that fits their needs and capabilities.
Black Book Used Car Value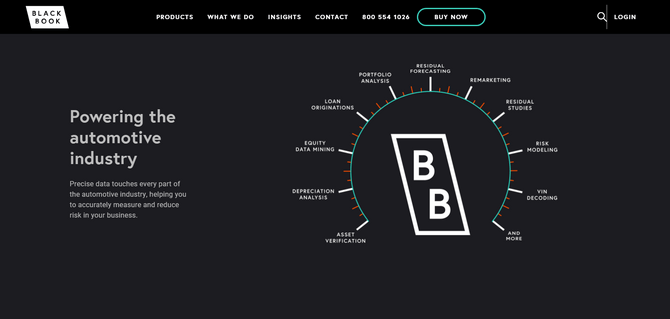 Here you can find not only vehicle values but also comprehensive and professional data packages or statistics information concerning asset verification, market forecasting, retail insights research, and much more. Black Book has its focus on providing only precise data to help dealers or other stakeholders find the most beneficial offers and automotive details, particularly used car values.
One of the key factors that stands out about the Black Book analytic online platform is their research on how different vehicle features and specifications, for instance, mileage, trim, and service records in the history of a vehicle, affect the vehicle's value. As a result, such deep automotive industry investigations help to provide precise and current pricing information, including car trade-in value.
If we speak about the Black Book products, the most comprehensive and recognized one is Black Book Cherry. This membership service allows you to view pre-sale data on any vehicle, do automobile market research, and use a VIN scanner.
The Black Book company is our trusted partner that provides up-to-date information for the ClearVin vehicle history lookup. If you are interested in a specific electric car value, you can easily find it in our VIN report.
Kelley Blue Book Used Car Value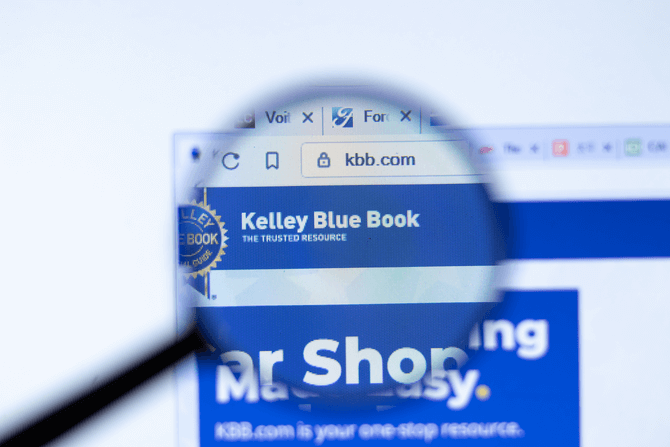 Another car value estimator we would like to mention is Kelley Blue Book. The resource uses a wide range of reliable and recognized databases in real time from manufacturers, dealers, financial organizations, and vehicle auctions. The Kelley Blue Book car value calculator is quite similar to the NADA Used Car Values solution. The interactive system from KBB includes such parameters as vehicle year, its condition, mileage, engine, transmission, and many other variables that affect used car valuation. To receive the relevant automobile price, it is important to provide all the data as accurately as possible. Otherwise, there is a high possibility of receiving a blunder or statistical error.
Using the KBB used car value lookup system, you will find the following pricing categories:
Fair Purchase Price. It is the market's used car value. The data for calculating this parameter has been gathered and analyzed from different vehicle marketplaces. As an outcome, you see an average market car estimated value.
Suggested Retail. This vehicle value parameter is a little higher than Fair Purchase Price and reflects how much you can potentially receive for a used car.
Private Party. Here you can find a suggested used car value that fits the most for private and individual sales. For example, if you decide to get rid of the vehicle quickly and go with the advertisement on social media or make an offer to your neighbors and friends, the KBB car value estimator has this parameter.
Trade-In. Such offers are the most appropriate for selling to dealerships. The KBB used car values that are reflected here show you for what price dealers are ready to get your used car.
You could notice that the used car valuation from Kelley Blue Book slightly differs from the NADAguides.
Edmunds Used Car Value
This online automotive platform offers a lot of solutions, for instance, new vehicle pricing and used car values. You can also find automobile reviews and a used car value guide. These data supply options provide great assistance with researching the electric car resale value.
With the Edmunds car value estimator, you can reveal any vehicle value. Its work principle is based on evaluating a group of factors that are determinative for vehicle values. All you need to do is to enter your VIN or license plate, give answers to a few quick questions, and then you can get an estimated car value. The details that are needed to be provided include the vehicle's location and style, its appearance and technical condition, mileage, etc.
In the Used Cars for Sale window, the Edmunds online service offers user-friendly and clear options to consider and check car value. For example, you can look through the top used electric automobile items. It is also possible to apply the vehicle location, make, model, year, and condition filters.
The Best Used Electric Car Values by Edmunds
It is convenient to use the Edmunds used car value platform because here you can search for the offers near you. If we speak about this car value estimator, we received the following outcomes of the best used electric vehicle values:
We can draw the conclusion that the Edmunds platform offers one of the best electric used car values.
Wrap Up
There are a lot of available solutions if we speak about the car value estimator. In our article, we have reviewed the NADAguides, Black Book, Kelley Blue Book, and Edmunds platforms that allow anyone to check a car's value and have revealed their features. We also provided the best used electric car values for 2022. It will help you find the most proper automobile that meets your requirements.
Our online platform can also be helpful when it comes to a used car value. By conducting the ClearVin car VIN lookup, you can find the Actual Cash Value (ACV) of any automobile, including the electric one, you are checking. Thus, it is possible to find out the used car value by VIN. Moreover, we provide the estimated repair cost parameter as well as damage data. To learn more, we encourage you to take a look at a VIN history report sample from ClearVin.
We guarantee that all the information we supply our customers with is up-to-date and reliable. If you are interested in a car dealer report, we also have you covered! Do not hesitate to contact us online if any concerns around the VIN check arise. You can also call us at: +1 (844) 268-5991 (8:00 AM – 3:00 PM EST, Monday to Friday).