Classic cars are not only a source of pride for their owners but also a valuable asset. However, the rise of retro vehicle scams has made it crucial to validate the authenticity and background of a vintage automobile before making a purchase. That is why we at ClearVIN think it is important to know the vehicle's history and its current condition in order to avoid potential problems in the future when it comes to purchasing a car, especially an older one. This is where the valuable and precise tool of a classic car VIN lookup comes into play.
At the same time, the question of how to look up classic car VIN numbers may arise. Do classic cars have VIN numbers at all? Are there any differences in vintage automobile background examination compared to the usual VIN decoding for modern cars? Since the topic may seem challenging, it does require a little more attention and knowledge. With ClearVIN, you can get all the needed answers instantly. Let's dive deeper and reveal the subject!
Why to Run a Classic Car VIN Lookup
Vintage cars are often sold for a higher price due to their rarity and history. Unfortunately, this also makes them a target for fraud. Performing a classic car VIN check can help prevent buying a vehicle that has been stolen, ensuring that you are investing in a genuine retro automobile.
A classic car VIN search can be a valuable tool, especially for enthusiasts and collectors looking to gather information about a specific vintage vehicle. By conducting a classic car VIN number lookup, you can reveal important details about the automobile's history. They include a production year, manufacturing plant origin, vehicle title data, a list of original equipment, and much more. This information can help verify whether the automobile is original, trace its ownership and title history, and provide insights about the car options and safety features.
In addition, a reliable VIN data provider serves as a valuable tool for uncovering any reported accidents or damage in a vehicle's history. By inputting the vehicle identification number into a trusted classic car VIN decoder, potential buyers can gain access to crucial information that aids in making an informed decision when considering the purchase of a vintage automobile. This insight into past accidents or damage received by discovering a classic car history by VIN number empowers buyers to determine the condition and potential risks associated with the classic car. It allows for transparency and peace of mind throughout the buying process.
Finally, it is also possible to outline the estimated vehicle value by running a classic car VIN search. It will be especially useful for car enthusiasts who are building their own collection of exciting retro automobiles. That is why the question of a classic car VIN number check may be interesting for motorists.
What to Know About a Vintage Vehicle VIN
When it comes to some specific points of a classic car VIN lookup, it is essential to research some historical questions. For example, we need to mention that in the United States, a VIN was first used in 1954. At the same time, the automotive industry has no well-structured and transparent vehicle identification approach, and car manufacturers were forced to utilize their own VIN systems to mark vehicles. As a result, VIN numbers differed in their length and encrypted meaning, making their decoding extremely challenging.
However, the situation changed in 1981 with the implementation of common international standards, in particular ISO 3779 and ISO 4030. The National Highway Traffic Safety Administration of the United States issued strict, unified, and logical norms that should be followed by car manufacturers.
The main point about a classic car VIN check to consider here is that from 1954 to 1981, vintage vehicles had no transparent rules for VIN decoding. In addition, the length of retro automobile identification numbers can vary based on the vehicle's manufacturing year and the specific automaker. Generally, VIN numbers for classic cars range between 11 and 17 characters in length. You may also discover that some retro vehicles built before 1954 have only six-digit VINs, which can be confusing.
Keep in mind that the length and format of the classic car VIN number can differ depending on the country of origin. Therefore, it is essential to conduct thorough research on the specific make and model of the classic car to ensure an accurate understanding and interpretation of the identification number.
In addition, when using a classic car VIN decoder for vehicles that are older than 1981, you need to be aware that the data you receive as a result of the classic car VIN history research may not have full information coverage. It is obtained by the absence of VIN standards that has limited the classic car VIN database. In addition, there are only a few reliable classic car VIN decoder online services that can provide you with all the relevant information about vintage automobiles. As a result, it may be difficult to run a classic car VIN search.
How to Check VIN Numbers on Older Cars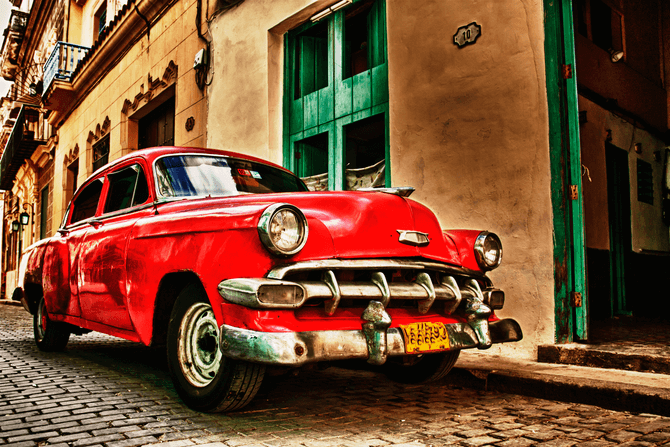 Speaking of a classic car VIN search, there are several ways to get a classic car VIN history report. We at ClearVIN have gathered a few possible options for revealing the vintage automobile background and car specs, including using online tools, government databases, and manual decoding techniques.
Manual VIN Decoding Techniques
For those who want to know every detail about their retro vehicle, the simplest choice is to manually decode the classic car VIN. This involves breaking down the identification code and interpreting each section of it to determine specific details about the vehicle.
However, there is one significant drawback to following this option. There may be no decoding documents and patterns available for free access since retro automobiles are quite outdated in terms of informational support.
Using Government Databases for Classic Car VIN Lookup
Another option for classic car VIN search is to use government databases, such as the National Motor Vehicle Title Information System (NMVTIS). They contain more extensive information about a vehicle's history, including its registration and title status, accident history, and more.
However, it is important to note that while a classic car VIN history report obtained from official sources can be valuable, it may not always provide a comprehensive picture. In some cases, additional information may be required to gain a complete understanding of the vehicle's history. This can include details such as specific vehicle specifications, car ownership records, and title history.
Online Classic Car VIN Lookup Tools
When it comes to conducting a classic car VIN search, online tools are also a good option. For example, some websites offer a free classic car VIN number check. They provide car enthusiasts and vintage automobile collectors with access to valuable information about their desired retro vehicles. Such online classic car VIN decoder tools can deliver essential details, including the make and model of the classic car and much more, allowing buyers to verify the automobile's authenticity. Additionally, classic car VIN lookup services can reveal whether a retro vehicle has been reported stolen or salvaged, offering crucial insights into its history.
At the same time, keep in mind that it's extremely hard to find a reliable online classic car VIN decoder tool where you can check all the needed details about your vintage automobile that was built before 1981. Such retro vehicles often have unique VIN formats and limited documentation, making it challenging to find a comprehensive and accurate decoding tool online. Due to the age of these automobiles, historical records and databases may be incomplete or unavailable, further complicating the decoding process. That is why consulting official sources such as original manufacturer records, documentation from previous owners, or professional appraisers might be necessary to obtain accurate information about your vintage automobile.
Benefits of Using Professional Classic Car VIN Lookup Services
When striving to avoid common issues while buying a vintage automobile built after 1981 and aiming to get a comprehensive classic car VIN history report, consider using a professional classic car VIN decoder. Here are some of the benefits of using such a service, not only for retro but for modern automobiles as well.
Access to Comprehensive Information
Professional classic car VIN lookup services have access to full vehicle databases that contain accurate records, including ones related to retro automobiles. For example, we at ClearVIN cover passenger cars and light-duty pickup trucks that have been registered in the United States and Canada since 1981.
Please keep in mind that our repository, including the classic car VIN database, expands with new entries every day. At present, our comprehensive collection covers over 70 makes, featuring more than 1,450 distinct models, and includes an impressive range of 21,200+ trim levels. With such scale, we strive to provide the most up-to-date and detailed information for a wide variety of vehicles to cater to the diverse needs and interests of our users.
Cost-Effective Solutions
Using a professional classic car VIN lookup service is a cost-effective solution compared to hiring a private investigator or spending a significant amount of time searching for information yourself. With the ClearVIN vehicle data provider, you can quickly obtain all the required information at a reasonable cost.
Furthermore, we can offer you a car dealer report for those who are involved in business and need bulk access, including classic car VIN number research. Check out our website and discover what you can get with ClearVIN.
Guaranteed Accuracy
Professional classic car VIN decoder services ensure the accuracy of the information provided, as they use reliable sources to collect and verify the data. Speaking of ClearVIN, its key asset is cooperation with the most recognizable automotive industry stakeholders and regulators, such as the National Motor Vehicle Title Information System (NMVTIS), National Highway Traffic Safety Administration (NHTSA), J.D. Power, and others. The vast ties are the main aspect that helps provide our clients with a unique classic car VIN report, making our vehicle database among the fullest that you can find.
ClearVIN Is Your Trusted Classic Car VIN Decoder
Performing a classic car VIN search is an important step in purchasing a retro automobile. It can provide you with valuable information included in a classic car VIN history report, revealing the vehicle's history and its current condition. As a result, a reliable VIN decoder such as ClearVIN can help you make an informed decision about whether to buy the car.
The ClearVin platform is here to help you clearly conduct your classic car VIN lookup fast and properly. You can be sure that our database includes only reliable and verified information about the condition of a vehicle, its owner, previous sales, and many other details. Feel free to contact us online or call us at +1 (844) 268-5991 (8:00 AM–3:00 PM EST, Monday–Friday) and ask your questions.