When it comes to purchasing a vehicle, revealing the car's options and safety features is always a top priority. While it is easy to be swayed by a vehicle's appearance and performance, we recommend you to ensure that the automobile is equipped with the necessary safety components to protect you and your passengers in the event of an accident.
The most effortless way to check car options and ensure that the vehicle's safety features meet your needs is by performing a VIN lookup to identify not only all the relevant details but also examine the vehicle's background.
Explanation of the Car Safety Features
When it comes to purchasing a vehicle, there are many factors to consider—style, performance, fuel efficiency, and so on. However, one point that should always take priority is safety features in a car. The way you are protected on the road can greatly impact your decision when buying a car. Knowing that you and your passengers will be safe in the event of an accident is priceless.
Airbags, anti-lock brakes (ABS), and electronic stability control (ESC) are essential new car safety features. Other important options include backup cameras, blind-spot monitoring, lane departure warning, and collision warning systems.
Airbags protect the driver and passengers in the event of a crash, while ABS helps the driver maintain control of the car by preventing the wheels from locking during emergency stops. ESC helps the driver maintain control of the vehicle during dangerous driving situations.
Backup cameras, blind-spot monitoring, and collision warning systems are additional car safety features that make driving safer. A backup camera helps you see behind the vehicle while reversing, while blind-spot monitoring alerts you if there's a car in your blind spot. Collision warning systems alert you if you are approaching another vehicle near you too quickly and will slow down the car or apply brakes if necessary.
By decoding a VIN number, you can discover whether there are the mentioned essential options and safety features in a car, as well as identify them. Knowing these details before purchasing a car will help you make an informed decision and keep you and your passengers safe on the road.
Importance of Knowing Car Safety Features Before Purchasing
Researching a vehicle's safety features before purchasing can have a significant impact on the buying process. It gives you an idea of what to expect and helps you make an informed decision.
By examining ahead of time how a vehicle can protect you on the road, you can make sure that the car you are considering has the features you want and need. This can give you peace of mind knowing that you and your passengers will be as safe as possible while driving. Additionally, knowing safety features in a car can help you decide if it is worth the price.
If you know a vehicle has specific car safety systems that you value, such as a backup camera or blind spot detection, you can use this information to negotiate with the seller. It shows that you have done your research and that you are serious about safety. Additionally, if a there are no safety car features you are looking for, you can use this information to negotiate a lower price or look elsewhere for a vehicle that meets your needs.
Also Read: How to Sell a Used Vehicle: Everything You Should Know
How to Check Car Options by VIN
Evaluating available car options is also essential when buying an automobile. Different vehicles have different features, and it is important to ensure that the car you intend to buy has options that meet your needs. This is where the VIN number comes into play.
The first step in checking car features by VIN is to obtain the VIN of the vehicle you are interested in. The VIN number can usually be found on the driver's side of the vehicle, near the windshield. It may also be printed on the car's registration form, insurance documents, or on a sticker inside the door jamb. Alternatively, we at ClearVIN offer to perform a free license plate lookup in case you have no VIN number.
The next step in checking car features in cars is to use an online decoder from a reliable VIN data provider. It will give you a car options list and a detailed report on the vehicle, including its make, model, year, engine size, transmission type, and any available options.
When checking vehicle options by VIN, you can also access the car's build sheet, which lists all the available options that were installed when the car was built. This sheet includes information about the car's engine, transmission, air conditioning, and other features.
The vehicle safety features and car options that are listed in the motor vehicle records can vary depending on the make and model of the automobile. Some common components defined in a car options list include air conditioning, power windows, power locks, cruise control, a sunroof, a navigation system, and heated seats. If the automobile has been customized or has aftermarket modifications, these may also be listed in the VIN check report.
However, not all vehicle options that were available on a particular make and model of car can be listed in the VIN records. Some of them may have been added after the car was manufactured, or they may not have been included in the VIN database. In these cases, it may be necessary to contact the manufacturer or a dealer to confirm the available options.
What to Remember When Checking Car Options and Safety Features by VIN Number
When performing a VIN lookup and revealing the safety features of a car, it's important to understand that different online tools may provide different sets of data. This can include variations in geographic coverage, with some solutions only covering vehicles registered in certain regions, such as the USA or Europe.
Additionally, certain VIN decoders may be tailored to specific vehicle classes, such as light-duty trucks or off-road vehicles, which may not reveal data, including vehicle options and safety features, on other types of automobiles. Therefore, it's essential to thoroughly research the VIN decoder you plan to use to ensure it covers your vehicle and provides the necessary information.
ClearVin's database covers vehicles registered in the United States and Canada, including passenger cars and light-duty trucks manufactured and registered from 1981 to 2023. Please note that our database is updated daily and includes over 70 makes, 1,500 models, and 20,000 trim levels. It means that our VIN decoder provides comprehensive and effortless VIN lookup services.
Some Other Ways to Check Car Options and Safety Features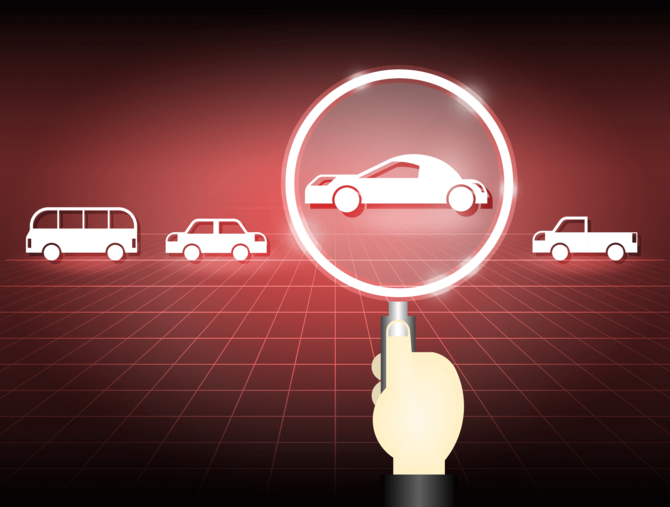 While decoding a VIN number is a great way to get information about vehicle safety features, it is not the only way.
Car Manufacturer Websites and Brochures
Automakers recognize the importance of offering comprehensive information on car safety features to inspire confidence among their customers. They typically create dedicated sections on their websites that specifically focus on safety. These sections provide detailed explanations of advanced driver-assistance systems (ADAS) like lane-keeping assist, adaptive cruise control, blind-spot monitoring, and automatic emergency braking. The descriptions encompass not only their functionalities but also their benefits and how they contribute to overall safety enhancement.
Moreover, automakers also furnish details about passive safety features in cars, such as advanced airbag systems, reinforced frames, and crumple zones. They may elaborate on the specific design elements and materials employed to optimize passenger protection in the event of a collision. Additionally, automakers often emphasize the safety testing procedures their vehicles undergo, which may include crash tests conducted by independent safety organizations.
By offering such comprehensive information, automakers aim to keep their customers well-informed and confident in their vehicles' safety capabilities.
Third-Party Car Safety Ratings and Reviews
There are many third-party organizations that provide safety ratings for cars. The National Highway Traffic Safety Administration (NHTSA) and the Insurance Institute for Highway Safety are two well-known organizations that provide vehicle rankings in terms of car safety features. Another great option is to check safety ratings from private vehicle data research institutions, such as Black Book and J. D. Power.
Check Car Options and Safety Features With ClearVIN
Checking car safety features and options is crucial when purchasing an automobile. It is not just about the vehicle's appearance and performance but also the safety of you and your passengers while on the road. ClearVIN provides an effortless solution to checking a vehicle's background and specifications, including car options and safety features, through a comprehensive VIN lookup service.
We also offer solutions to drivers or car dealers for VIN decoding, license plate or Monroney sticker lookup, recall checking, and much more. Receiving all the needed vehicle data has become as easy as ABC with ClearVin. To find out more, check our resources or contact us online if any questions concerning our products arise. Alternatively, you can call us at: +1 (844) 268-5991 (8:00 AM–3:00 PM EST, Monday–Friday).