When it comes to buying a used vehicle, you can come across the term "rebuilt title," which can spark curiosity and raise several questions. What does a rebuilt car title mean, and how does it differ from a clean title? Understanding the nuances behind this term is essential for any car buyer or used vehicle dealer to make informed decisions and avoid potential pitfalls.
We at ClearVin know that understanding used car titles can sometimes be challenging for both experienced and novice drivers. That is why we are here to share our knowledge and provide clarity regarding rebuilt title cars. In this comprehensive guide, we will delve into the topic step-by-step and discuss the key points to know about a rebuilt vehicle. By the end of this article, you will have a better understanding of what to look out for and how to assess the potential risks and benefits of buying a car with a rebuilt title. Let's get started.
What Is a Rebuilt Car Title?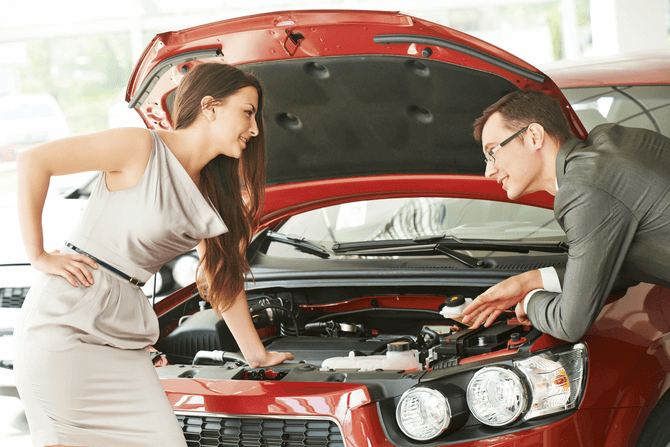 A rebuilt title is a special status given to a vehicle that has previously been recognized as a total loss by an insurance company due to extensive damage, typically resulting from an accident, flood, fire, or other significant incident. Instead of being sold for scrap or dismantled, such salvage vehicles have undergone repairs and passed a detailed inspection by the authorities, like the Department of Motor Vehicles in the United States, to be labeled roadworthy once again. Thus, the rebuilt title provides a second chance for the car to return to the road. At the same time, it also raises questions about the extent of the damage it sustained, the quality of the repairs made, and the potential risks associated with its history. That is exactly where a VIN lookup or license plate number search from ClearVin can help. In just a few clicks, you can find out whether any particular car has ever been granted a rebuilt title. Take a look at a sample vehicle history report to understand what you can get from us when checking the vehicle's background.
Speaking of conditions when a used vehicle obtains a rebuilt title, accidents, floods, fires, and theft are all examples of the most common events that lead to a rebuilt car title. Essentially, any severe damage that makes typical repairs uneconomical may result in a salvage car title, and then a rebuilt title. A detailed damage evaluation is performed to determine whether a vehicle is eligible for a rebuilt title. This evaluation entails checking the vehicle's structural integrity, safety systems, and mechanical components, as well as confirming that all essential repairs have been made appropriately. The magnitude of the damage and the quality of repairs are important considerations in the decision-making process.
Pros and Cons of Buying a Vehicle with a Rebuilt Title
If you decide on buying a car with a rebuilt title, it will be helpful to define the purpose of your purchase as well as consider the advantages and disadvantages of a rebuilt title. That is how you can make informed decisions. While the idea of buying a rebuilt title car may seem appealing due to its lower price compared to a similar model with a clean title, it is essential for buyers to carefully check the vehicle's history and condition.
Purchasing a car with a rebuilt title can provide several benefits. To begin with, the price of a rebuilt vehicle is frequently lower than comparable automobiles with clean titles, making it more affordable. Furthermore, because these cars have undergone significant repairs and inspections, they may be in better condition than other used vehicles with clear titles. At the same time, we recommend outlining a rebuilt title car value and checking a special rebuilt title car value calculator to get an understanding of what you can count on when making the deal. In general, if you are willing to do your homework on a rebuilt title car, you will be able to get a fantastic offer.
While there are benefits, it is also important to outline the potential dangers and drawbacks. You can face difficulties when insuring a rebuilt title car. In addition, the rebuilt title car resale value may be lower compared to other vehicles. Furthermore, there is always some doubt about the car's history and its technical condition, so you should be extra cautious when inspecting it to guarantee the repairs were done correctly. It is a decision that needs serious thought and research.
Summing up, conduct your research and outline what you can gain and lose with a rebuilt title prior to buying a rebuilt title car.
Essential Steps to Obtain and Transfer a Rebuilt Title
You may think that dealing with a rebuilt car title is difficult due to its specificity. Not with the recommendations from ClearVin! Here are detailed guidelines on how to acquire or transfer a car with a rebuilt title.
Process for obtaining a rebuilt title
In order to get your rebuilt title car, you should:
Prepare the required documentation. Gather any necessary documents, such as the salvage title, repair receipts, and photos of the vehicle before and after repairs.
Complete any required maintenance. Make sure that all repairs have been completed in accordance with local rules and safety standards.
Plan an inspection. To schedule an inspection, contact your local Department of Motor Vehicles (DMV) or another responsible organization. They will inspect the car to ensure that it meets the standards for a rebuilt title.
Prepare the documents. Fill out the necessary DMV forms, including a rebuilt automobile title application. You may also be charged a fee.
Allow time for approval. The Department of Motor Vehicles will assess your application and offer you a rebuilt car title if everything is in order.
As you can see, the process is as easy as pie if you follow the provided steps.
Transferring ownership of a car with a rebuilt title
Changing the ownership of a rebuilt title car is the same as in the case of any other vehicle. Typically, the procedure covers:
Completing the required forms. Fill out a bill of sale, a transfer of ownership form, and any additional paperwork that may be required.
Paying transfer fees. There may be fees associated with changing the car ownership, so be prepared to cover those costs.
Notifying the DMV. Inform the Department of Motor Vehicles or other appropriate authorities of the change in ownership so that their records can be updated.
It is important to follow the specific regulations and procedures outlined by your local responsible organization to ensure a smooth and legal transfer of ownership.
Why to Check a Rebuilt Title Car With ClearVin
To begin with, employing ClearVin to check a rebuilt title car can provide a detailed vehicle history report. This summary includes important details such as the vehicle's accident history, prior owners, mileage, service records, and title status. Buyers can determine whether the car with a rebuilt title has been in any serious accidents or sustained extensive damage by examining the report. This information is essential for making an informed selection and can assist consumers in avoiding acquiring a vehicle with hidden or undeclared flaws.
Additionally, ClearVin offers valuable insights into a vehicle's previous car insurance claims. It enables buyers to access the extent of any past damage. For instance, if the car had previous body damage, it might indicate potential safety concerns. Armed with this knowledge, buyers can make well-informed decisions about the car's features and long-term reliability, ensuring they choose a vehicle that meets their expectations for durability and peace of mind.
By making use of the ClearVin services, you can verify the authenticity of a vehicle's title by, for example, revealing possible title washing. It is a fraudulent practice employed by sellers to remove the rebuilt car title status from the vehicle history by obtaining a new title from another state, misleading buyers. ClearVin's thorough checks help ensure that buyers are fully informed about the car's past, safeguarding them from falling victim to such fraudulence.
Easy Vehicle Title Check With ClearVin
Understanding the meaning of a rebuilt car title and how it affects the history of a used vehicle and its value is critical for auto buyers or professional dealers. While a rebuilt title can provide cost-saving options and a second chance for damaged vehicles to go back on the road, this auto status comes with particular risks and uncertainties. However, obtaining the guidance of trusted resources like ClearVin can be a great solution that will help you avoid pitfalls.
The ClearVin platform is here to help prevent you from confusion with rebuilt title cars as well as assist you to conduct your VIN decoding fast and properly. We offer knowledgeable assistance with auto history disclosure. Our databases contain reliable and verifiable information about a vehicle's condition, owner, previous sales, and a variety of other factors. You can look over the available solutions on our website. Feel free to contact us online or call us at +1 (844) 268-5991 (8:00 AM–3:00 PM EST, Monday–Friday) and ask your questions.