Motorcycles are popular among those who enjoy extreme and fast speeds. More and more people turn their attention to used bikes. However, there is always a risk of being cheated and finding some hidden problems when buying a used motorcycle. These are reasons why it's so important to be aware of all the nuances when it comes to buying a used bike.
At the same time, motorists, particularly newcomers, often need a used motorcycle buying guide. To make it brief, there are a lot of things to keep in mind when you want to buy a used motorcycle. That is why ClearVin has decided to provide our blog readers with a comprehensive used motorcycle buying guide.
Before Buying a Used Motorcycle
Prior to asking how to buy a used motorcycle, decide what type and model of a used bike you would like to purchase and learn all the motorcycle specifications and features. Are you interested in a cruiser motorbike, sports motorcycle, or touring one? Bear in mind that different types of motorcycles wear out to different degrees. For instance, touring bikes suffer less damage than sports models. Suspension wear is more severe for:
extreme bikes;
off-road tourism enduro models;
dual-use configurations for the city and off-road;
trial motorcycles.
All of these bikes are subject to wear and tear if they have been ridden frequently off the track. Think about what type of used motorcycle is right for you.
Benefits and Drawbacks of Buying a Used Motorcycle
If you want to purchase your first motorcycle, we recommend considering a used bike. It will require less money spent, and you won't be so sorry in the case of an accident or motorcycle damage. For the first time, it will be less stressful and let you gain the needed experience in time.
To research the subject of buying a used motorcycle, we have gathered some key benefits and drawbacks of used motorcycle models.
The advantages of used motorcycles are as follows:
20% off branded price guaranteed;
a chance to bargain when purchasing;
the ability to get a discontinued model;
the bike was worn in, so minor factory and model defects were fixed.
There are also some disadvantages when it comes to buying a used motorcycle:
technical condition, wear of parts, and the bike's background can often be a mystery;
lack of guarantees and after-sales service;
wide price range, depending on the used bike configuration and service life;
the need to replace consumables.
You can suggest the drawbacks of buying a used motorcycle from a private seller as quite significant ones. At the same time, if you approach it with attention and our pieces of advice, the risks of getting a used bike are reduced to a minimum. Keep reading to learn more, including what to look for when buying a used motorcycle and where to buy one.
Ask Many Questions When Buying a Used Motorcycle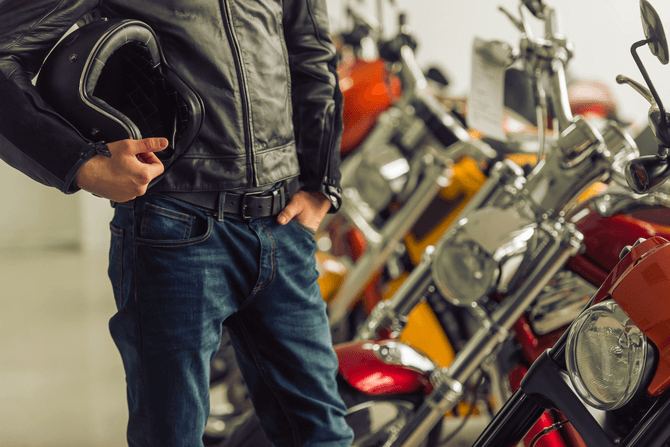 Try to find out as much as possible about a used motorcycle you want to buy during the first phone call or email to the seller. There are ten important questions to ask when buying a used motorcycle. They will give you an idea of how the used bike was maintained:
Have you bought this motorcycle new?
Are you a motorcycle owner?
Do you have supporting documents? The purchase should be abandoned if the seller does not have documents confirming ownership. You may be dealing with a scammer.
Did the used motorcycle fall? Was it in an accident?
What maintenance schedule have you followed?
Do you have records in the service book that I can look at?
What service maintains your motorcycle?
Where have you stored the bike?
Why are you selling it?
How often did you use the motorcycle, and what kinds of trips did you make?
It is best to have a used motorcycle inspected by an accredited dealer or by a motorcycle service specialist. However, if you need to do the evaluation yourself, take the needed tools with you, for instance, a flashlight and a multimeter.
Where to Look for a Used Motorcycle
We also recommend analyzing the market and researching used motorcycle values when buying a used motorcycle. Along with that, make sure that you have full access to the used motorcycle parts and can get them without any problems. One of the most popular retailers in the United States is Bob's Used Motorcycle Parts store, which you can find on eBay and other e-commerce and social media platforms.
If you want to get precise data concerning used motorcycle values, we would like to recommend the NADAguides resource from our partner J.D. Power, which allows you to discover not only used motorcycle values and compare them, but also calculate insurance and other payments around used bikes.
You can also look through the AutoBidMaster online vehicle auctions, where it is possible to find used motorcycles for sale under $5,000. We recommend only licensed and time-tested solutions for getting a used bike. That is why you can rely on the data provided by ClearVin and be sure that you will get comprehensive services from our partners.
How to Buy a Used Motorcycle: Tips and Recommendations
Buying a used motorcycle can be a little challenging, especially for a newcomer, since it is necessary to be familiar with the features of a bike and motorcycle specifications. ClearVin offers some key recommendations for buying a used motorcycle to keep our readers informed and educated.
Organizational Pieces of Advice on Buying a Used Motorcycle
If possible, buy a used motorcycle from a friend or familiar. It allows you to reduce the risks linked with a bike's condition and fraud because if something is going wrong with the vehicle, you know the person who sold it to you. In addition, you can ask for a helping hand or have a consultation since the previous owner is aware of all the nuances concerning the used motorcycle.
If you are going to buy a used motorcycle, which will be the first for you, bring someone along with you who knows more about used bikes and motorcycle specifications. You are not going to know all the ins and outs of a specific used motorcycle model or what to look for when buying a used motorcycle. That is why it's always better to have a second pair of eyes and someone who knows a little more about used bikes to be safe than sorry.
Here is a tip from experienced bike enthusiasts that helped a lot of people. Search for a used motorcycle that has less than 5 years and less than 15,000 miles of mileage. In most cases, such used bikes are in good condition and will serve a driver for a long time if they maintain and take care of the vehicle properly.
A good idea is to buy a used vehicle from someone who is older and in their 40s or 50s. As a rule, such people tend to take care of their vehicles more, use them less frequently, and have solid driving experience compared to teenagers or young adults in their 20s. It means that you can find a used motorcycle in great condition.
Technical Pieces of Advice on Buying a Used Motorcycle
When buying a used motorcycle, look at the tires. They can reveal what the bike has been through, the previous owner's driving style, and how the vehicle has been used. If you see motorcycle tires that have the profile a little bit squared off, it means that the bike was probably commuted with or maybe someone just liked doing tricks with it. If you see a used motorcycle that has aggressive signs of wear right at the edge of the tire, it means that its owner has not maintained the vehicle well. At the same time, race or track sports used bikes can be exceptions here since they were created for assertive driving.
Check the chain condition during used motorcycle buying. It can tell you a lot about how a used bike owner cared for and maintained the bike. If you see rust on the chain, it means that other motorcycle parts were also not paid proper attention to.
When looking for used motorcycles and evaluating bikes, keep an eye out for leaking technical fluids. There are lots of places where the vehicle could be leaking. Pay most of your attention to a zone where a used motorcycle suspension works at the front of the bike. You can also notice the oil leaking from the bottom or that the coolant is running out. Do not forget to check the brake fluid and gas tank tightness when buying a used motorcycle.
We also recommend you not buy a bike that has been sitting outside for too long. The most common signs that reveal it are rust all over the vehicle and the paintwork has lost its color or shade significantly. Try to find a garage-kept used motorcycle.
ClearVin Can Help with Buying a Used Motorcycle
The next piece of advice is to avoid used motorcycles with a history of major bike crash damage, especially when a seller tries to hide this information. To be sure and safe, ClearVin offers you the opportunity to conduct a motorcycle VIN lookup that will help you reveal such nuances. Along with the motorcycle history review, you will receive the features of a bike and its mileage in your motorcycle VIN report.
The Bottom Line
Buying a used motorcycle may be a great option to consider, especially if you are a newcomer to the bike world. Along with that, it is always useful to keep in mind all the key aspects when choosing a used motorcycle model. To help our blog readers, ClearVin has some essential pieces of advice on how to buy a used motorcycle that we have reviewed in this article.
Remember also that we allow you to conduct a motorcycle VIN number search and get your ClearVIN VIN Check Report, so you can be sure that your used bike has a good background. ClearVin assures you that all the data you receive in a motorcycle VIN report is accurate and current. We invite you to reach us out online if you have any questions when it comes to a motorcycle VIN check. You can also contact us via telephone: +1 (844) 268-5991 (8:00 AM – 3:00 PM EST, Monday to Friday).