Many people dream of buying a powerful boat. Unfortunately, it is not as simple as purchasing a car. For example, there are a bunch of nuances to be familiar with. It is because vessels, including salvage boats, are considered more complicated and not affordable for everyone. That is why not many of us are aware of all there is to know before buying hurricane-damaged boats. Such questions as which types and configurations of boats to choose arise in a potential buyer's head.
One of the most relevant options is whether to buy a hurricane-damaged boat. There are a few good reasons. We suggest storm-damaged boats as a more affordable way to start with since a vessel owner will feel more comfortable and will be able to learn all the technical and organizational nuances in this case.
In any situation, we should investigate the subject and determine what is important to know before making a purchase decision. With a ClearVIN VIN Check Report, you will unlock the mysteries of buying hurricane-damaged boats! In this article, we will carefully guide you through the topic of used vessels and boat auctions.
What Should You Know Before Purchasing a Salvage Boat?
Buying a hurricane-damaged boat is a serious and relatively expensive undertaking that needs to be carefully considered before proceeding. What type of salvage boat is best to buy based on the potential buyer's preferences? What are the main points to know about before purchasing? The ClearVin experts are here to help you find the answers.
Categories of Hurricane-Damaged Boats for Sale
When answering the question of which hurricane-damaged boat type to buy, the time-tested and most relevant options, based on our experience, are the cabin boat, open deck boat, or one with an outboard engine. The last one is the easiest to drive since outboard motors are not too complicated to operate, and they provide simple access to various elements that are useful when you need to change an engine part or repair it.
If this will be your first hurricane-damaged boat from the second-hand market or boat auction, then it is worth thinking about more frequent servicing. The failure of a stationary engine may require greater financial outlays, and it should be noted that it will be a bit more difficult to operate.
However, one important point is that the engine propeller will constantly be submerged in the water. That is why this element of a salvage boat must be checked very carefully before buying hurricane-damaged boats, because it is the most vulnerable to damage. We should also remember that used vessels often sail in salty sea waters where the problem of corrosion of metal or aluminum parts of the watercraft engine, as well as the electronic system damage, will progress much faster.
Pay Attention to the Engine
The choice of your perfect salvage boat also depends on what skills and experience you possess. If none, the best option is to pick a storm-damaged boat with an engine that has less than 10 kW of power. You can operate such a vessel inland, keeping in mind the designated quiet zones where speedboats are not permitted.
If you have a helmsman certificate for a motorboat, you can drive a vessel with an engine power of up to 60 kW, both inland and at sea. A senior motorboat helmsman can drive a hurricane-damaged boat of any engine power, but at sea it should not exceed 40 feet.
We at ClearVin adhere to the opinion that it is a good idea to choose the salvage boat model when buying your first personal watercraft. There are a few reasons for it. Foremost, it will be much cheaper and more appropriate for learning and practice when gaining such important experience. Once we've learned how to operate a hurricane-damaged boat, there's nothing stopping us from replacing it with a new one that meets our performance and financial requirements.
Most Popular Motorboat Brands
Among the most popular personal watercraft brands, we can distinguish Four Winns, Glastron, and Scarab. All of them offer motorboats of the highest quality, including models awarded in prestigious competitions. You can find these brands' representatives at different and best boat auctions, including ones from the well-known and trusted Copart broker AutoBidMaster, with a great salvage boat inventory. As a result, many years of experience by the Four Winns and Glastron watercraft manufacturers ensure component reliability and high parameters. The Scarab brand, which offers very powerful engines in its boats, is not inferior to them.
Regardless of which model and brand of a hurricane-damaged boat you choose, it is worth buying only when you are sure of the quality and have had a consultation from an expert. It will ensure that you pick the best option of a salvage boat that meets your requirements.
Which Type of Hurricane-Damaged Boat to Choose?
Buying a salvage boat, either via boat auctions or from the second-hand market, is a considerable investment. That is why it is best to think carefully about this matter and consider which hurricane-damaged sailboats for sale will be the best choice for your needs and capabilities. The task can seem complicated since there are many personal watercraft types to choose from. What are they characterized by? Let's sort everything out and define the most popular types of salvage boats.
Open-Deck Watercraft
One of the most popular types of salvage boats is open-deck vessels. It is an excellent choice for everyday activities and relaxing water journeys. Going in such a boat requires good weather conditions because there is no place, for example, to shelter from the rain. Open deck boats are usually made of laminates, wood, or aluminum. That is why you need to pay close attention to the vessel's body quality based on your driving skills and the environment where you are going to use your salvage boat.
Cabin Vessel
However, if you are looking for a comfortable family salvage boat, you should consider buying the cabin configuration. As the name suggests, this type of vessel has comfortable cabins, so you can take your whole family on day trips without worrying that someone will have nowhere to rest. It is also worth knowing the specifications and features of such salvage boats for sale and determining what you are looking for: a one-day trip watercraft or maybe another model that will allow you to shelter in it for at least a few days.
Fishing and RIV Configurations
There are also special fishing salvage boats for sale. They have a comfortable cabin and a high wheelhouse, which makes operating them comfortable. Many such hurricane-damaged boats have special handles for fishing equipment.
Hybrid RIB vessels, or Rigid Inflatable Boats, are also popular. They are characterized by great lightness and maneuverability. Such a type of salvage boat is perfect for those who like adrenaline. Keep in mind that they are not the most comfortable ones, and driving them may turn out to be difficult even for a professional.
Jet Ski
You can also find such an option as a hurricane jet ski for sale. This type of personal watercraft is the most appropriate for those enthusiasts who are keen on powersports. Experts distinguish a few configurations of jet skis, for instance, the rec-lite and performance models, as well as recreational and luxury water scooters. Remember that this type of personal watercraft requires good practical skills and physical condition from a driver.
It doesn't matter what type of storm-damaged boat you choose, it's important to examine and evaluate the vessel's condition. The Craft Identification Number will help you with it.
Craft Identification Number: What Is This?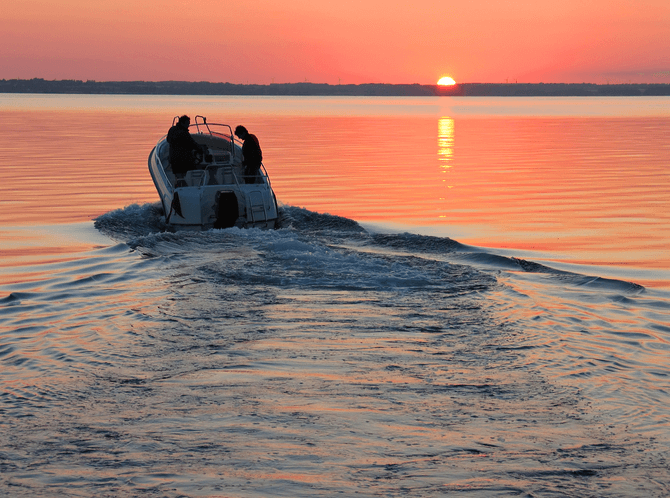 Each vessel must be tagged with a unique code called a Craft Identification Number (CIN), or you can also come across the HIN abbreviation. It helps identify the watercraft manufacturer, plant location, and the date of unit production. The mentioned number is compared to the identical VIN combination for cars, motorcycles, and other vehicles. The CIN code must include 14 characters and contain the following information:
country of manufacture;
unique serial number;
month and year of production, or model year.
The CIN code is located in two places. One is on or near the transom on the right-hand side, near the top. It can also be found at the stern. On inflatable boats, you will notice the number on the rigid aft cross member or on the console assembly. The second CIN is placed in the hidden part of the unit as a security check.
The ISO 10087:2022 standard provides detailed information on these requirements.
Summary
In the article, we have reviewed the key points to be familiar with when buying hurricane-damaged boats. Our simple guidelines will help you sort everything out concerning salvage boats for sale.
If you are interested in buying a hurricane-damaged boat, it is worth considering buying a cabin or an open-deck vessel. Keep in mind that personal watercraft with outboard engines will also be a good choice, as they are the easiest to use. After a driver gets into practice, they can then decide on more powerful salvage boat models.
ClearVin provides a comprehensive solution for VIN search, license plate lookup, and many other services presented on our website. Contact us online to receive more details about our activities. You can also reach us at: +1 (844) 268-5991 (8:00 AM – 3:00 PM EST, Monday to Friday).