We all have stared at car window stickers just to identify the final price. Nevertheless, car window stickers contain more handy information. ClearVIN is delving into the specifics of understanding these labels and can reveal how to find a window sticker by inputting a VIN. Keep calm: we're here to help you learn more about window stickers!
What Is A Window Sticker?
According to the federal requirements, a window sticker is a label reflecting the crucial characteristics and features for all vehicles sold new through dealerships and used through authorized certified-pre-owned showrooms. They have originated from the surname of an American senator. Almer Stillwell 'Mike' Monroney sponsored the legislation mandating all manufacturers after World War II.
What Information Can A Window Sticker Tell You?
Even though the structure may vary, the basic requirements of the provided information are governed by law and remain the same. Therefore, you will easily find vehicle interior and tech characteristics, warranty, standard and optional equipment, fuel economy, and safety ratings in every sticker. Though these requirements are constantly modernized. More recent stickers may cover more helpful information and contain a comprehensive description of safety features. Nevertheless, there're (10) key groups to consider here.
VIN Characteristics Section
It is a brief guide about everything you should know about a car model. Usually, this section contains data about exterior and interior colors, trim level, engine, drivetrain, and transmission parameters. So, you can find all the basic information about the vehicle here.
Standard Equipment Section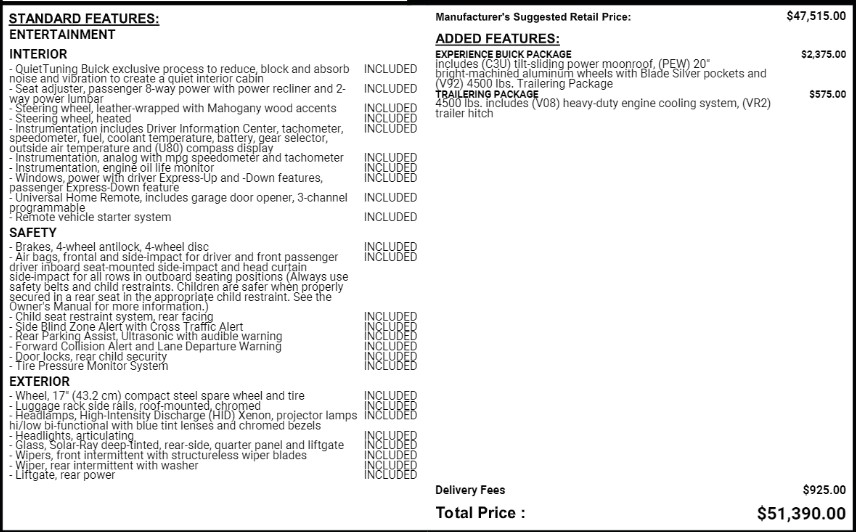 Here, you'll find many useful facts about ALL the standard equipment a vehicle comes with. Basically, items within this section are split into categories corresponding to the interior/exterior, safety, and security of a chosen car. Federal regulations require indicating everything included in the MSRP (manufacturer's suggested retail price).
Warranty Coverage Section
All manufacturers provide a powertrain and bumper-to-bumper warranties. They can vary for various automakers and even models within the lineup. Besides, you can find information about offered maintenance programs and roadside assistance packages if the manufacturer provides any.
Optional Factory-Installed
Equipment Section
Here is what has been installed on a vehicle by the manufacturer. The list of options can be quite long, especially on premium models or high-end performance vehicles. If you're looking for specific features in a car, it's worth looking at this section. Kindly note that you shouldn't mix it up with the list of dealer's installed options that usually comes separately when a car is sold off the lot. Many of such options are dealers' initiatives to outsmart you. So, beware of paying more for equipment you may not need.
Fuel Economy Ratings
and QR-Code Sections
While fuel prices have constantly been ramping up, fuel efficiency has become the main concern for all automakers and car buyers. However, when wasn't it a concern? The section dedicated to fuel economy reveals efficiency figures stated by the automaker. Moreover, QR-code allows you to check and compare the available data and select the most appropriate trim with the best gas mileage.
Components and Their Pricing Sections
This section grants your access to countries of origin and the prices of components of your vehicle. Manufacturers include this information because different markets impose unalike import requirements caused by the specifics of vehicle exploitation. For instance, the climate in Southern America is warmer than in Northern America, so vehicles manufactured for different markets may not have interchangeable components. On top of that, you can look for the price of OEM parts here. The total price at the right reflects the sum for which you can buy a vehicle, including all the features and equipment mentioned here.
Safety Rating Section
Nowadays, all vehicles sold in the USA are subject to mandatory safety crash tests conducted by the Insurance Institute of Highway Safety (IIHS) or the National Highway Traffic Safety Administration (NHTSA). Therefore, the information on the window sticker proves whether a vehicle conforms to all the applicable norms and safety regulations.
How Do I Find A Window Sticker By VIN?
Studying the window stickers will help you understand if a vehicle is what you've been looking for. Today, you can do it from the comfort of your own home with a ClearVIN VIN Check Report. We can grant you access to all the pertinent information from a window sticker if you tell us the VIN of a car you intend to buy. After entering the vehicle's VIN, you'll get the printable version of a sticker in two clicks. Don't worry: you'll access the most comprehensible coverage for only $8,99. Take a look at other benefits here.
Final Thoughts
Learning as much as possible before you're ready to pay for a new-to-you car is an important step for a successful purchase. Checking a car's history is a must, too. Nobody wishes to experience trouble after buying the vehicle they've always wanted. A VIN lookup from ClearVIN is the best option for any car buyer to check the vehicle background. With us, you can know what the vehicle's entire journey has been. To order a VIN history report, just head to our main page. In addition, we do VIN decoding and reveal information about the recalls, if there were any. For those involved in business, a car dealer report from ClearVIN can provide valuable information about the car's history, including past accidents, repairs, and maintenance records.
Don't hesitate to contact ClearVIN at +1 (844) 268-5991 (from 8:00 AM to 3:00 PM Eastern Standard Time, Monday to Friday) if you have questions. Also, you can email us anytime.