A personalized, or vanity plate, is a distinctive type of vehicle registration number. In the United States, vanity plates are like a separate kind of art. You will find many collectors that are keen on gathering rare license plates. Moreover, institutions that are responsible for vanity plate issues receive a significant amount of money for this activity.
With ClearVin, you can find out how American custom license plates work. We would also like to remind you that our service provides an opportunity to get a VIN lookup service not only by the VIN number. You are free to run a free license plate check in a few clicks or smartphone taps to meet your needs. ClearVin license plate lookups could help everyone to retrieve vital data about a used car's past and its current condition. It makes ClearVin a powerful tool when it comes to car background evaluation. Check our services to find out more.
Features of Custom License Plates Design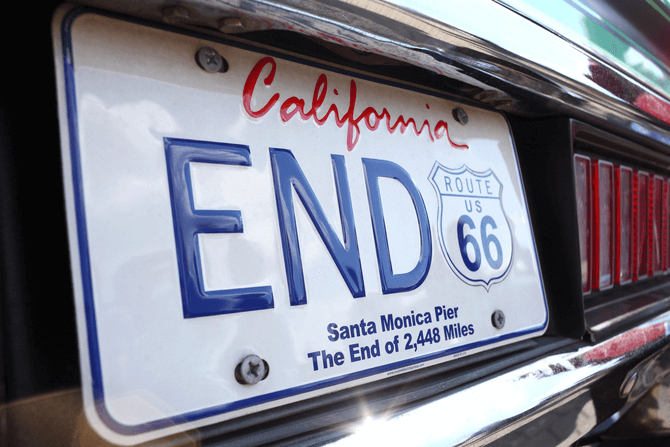 There are various options for license plate design. They also differ from state to state. For example, Virginia license plates have many designs at the lowest prices. Every vehicle seems to have something unique about its license plate here. In contrast, Texas is quite monotonous in that way because most people get normal car plates.
🤔 Did you know? Virginia car owners have the most personalized license plates compared to other states. The vanity plate penetration rate is 16%. One of the reasons is that Virginia has cheap plate fees that amount to $25.
Often, a vehicle registration plate design, particularly its colors, slogans, and symbols, includes associations of their state. At the same time, every federal district has its own consistent and unique license plate configuration. Serial coding and certain symbol sequences also add to the number of possible combinations. It helps to systematize data concerning vehicles and their owners.
The relevant question here is how many letters are on a license plate. A normal number plate for cars contains six or seven characters. At the same time, vanity plates in a few jurisdictions have up to eight letters. It may also be only digits that make up a license plate. In Delaware, and the reason is the low population that allows it to cover all the municipal car owners with unique combinations. In other states with a higher number of inhabitants (for example, California, Michigan, or North Carolina), local authorities introduced into circulation car plates with three letters and four digits. This format is more flexible. It is also possible to find other trends in license plate serial formatting. New Jersey, Florida, and Arkansas have implemented a system with four letters and two numbers.
Different car license plate configurations and designs may be confusing at first glance. The main point is that it helps to systematize and codify a great number of database units, particularly vehicles and their owners.
State Differences in Personalized License Plates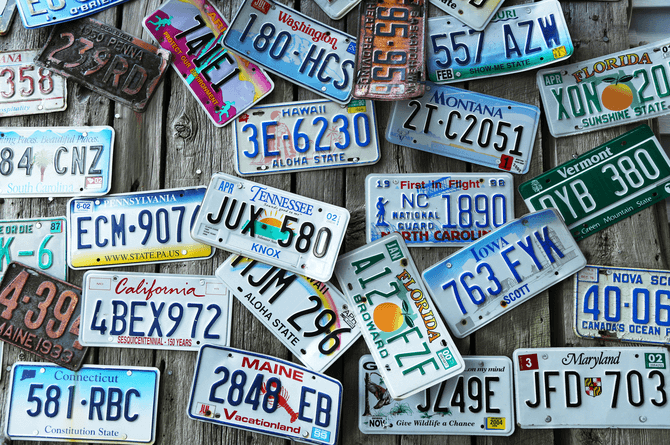 Every state has its own rules, laws, and authorities. The same concerns license plates. Depending on the federal district, plates may either stay with the automobile or with the owner. In any case, there is no need to receive a new license plate at the next registration in America. At the same time, when you move to another state, you have to appeal to local authorities and get the present-day registration number for your car.
To make everything clear and easy, there is also a special sticker. It contains the plate's expiration date. In certain states, for example, in Texas, the end month and year of your valid registration are printed on the sticker. In others, they are only displayed electronically. One more implemented option refers to the incorporation of the expiration date into the car plate. As an example, we can review the Massachusetts case. The month when a car owner needs to renovate vehicle registration is displayed in the last number. West Virginia and Missouri use the first digit for the same purpose.
The situation differs in Tennessee. It is necessary to get a new plate when a person buys a new vehicle. At the same time, the license number is assigned both to the car and its owner. When a driver wants to get rid of their vehicle, it is necessary to take the license plate off during the sale, and the new owner has to pick up another one. Texas license plates are kept for around 6 or 8 years, but the registration sticker is changed annually.
Funny Car License Plates
We at ClearVin think that the main intent of a person who gets a vanity plate is to share creativity, stand out, and cheer up other road users. At the same time, there are also some strict rules when it comes to a custom license plate. For example, to prevent offending other people, local authorities, particularly Departments of Motor Vehicles in the United States, prohibit issuing plates with certain slogans, such as any allusions to specific body parts or anything linked to profanity, drugs, or alcohol. We support this principle because there are so many other creative vanity plate ideas. To prove that, you can look over some funny car license plates that ClearVin experts gathered in the following list:
We start our overview with an automobile owner who has a great sense of humor. A vanity plate "IN DEBT" was detected on a rare car with an estimated value of around $120,000. The final shot is that the vehicle was parked near a second-hand market.
A special category is personalized license plates on electric cars. In the U.S., there are some of them that conquer roads with interesting license plates. For example, "LOL OIL," "ROFL GAS," and "BYBYGAS".
When picking up vanity plate ideas, car owners may think that their fantasy is limited by the license plate frames. That occurred with our list hero, who has an "EPIC FAI" personalized frame. Nothing stopped the car owner from adding a list of paper with a handwritten "L" letter near the phrase's end.
As you can see, it is easy to find ideas for a funny personalized license plate. Picking up the burning topics or highlighting humorous personal traits works well here.
How to Get a Custom License Plate?
In the United States, everyone can get a custom license plate for their car by applying at a local Department of Motor Vehicles. These institutions may go by different names in America. The most common are the Division of Motor Vehicles and the Bureau of Motor Vehicles. These organizations handle such administrative procedures as driver's license and license plate issuing, car registration, title transfers, bills of sale, and so on. A personalized plate can be provided not only for automobiles but also for motorcycles, trucks, and trailers. There is also a relevant question: how much is a custom license plate? The fee varies from state to state. For example, a Texas license plate costs $55 for one year. In New York state, the price ranges from $43 to $80, with every year's renewal costing $15–47 depending on the plate style.
The procedure of getting a custom license plate has become easier today. Just fill out an online form on the local Department of Motor Vehicles website. A car owner must provide the authorities with some essential data concerning the automobile if he wants to receive a license plate.
The other question that may arise is how to check vanity plate availability. It is also possible to do this via the Internet. For instance, the New Hampshire Division of Motor Vehicles offers a vanity plate availability check on their special online platform. Use only official and verified sources that will provide you with relevant and up-to-date information.
Final Words
You can easily get lost in the variety of different vehicle plate configurations and their features. At the same time, every car lover in the United States should be aware of the basic statements concerning automobile registration and license number issues. In the article, we have provided a comprehensive overview on how American custom license plates work. We also discovered that every state has its own rules and attributes when it comes to registration plates. The main point here is to figure out all the aspects of plate number usage in a certain state and in every particular situation.
Don't forget to conduct a car VIN lookup on any vehicle you're considering purchasing, as it can reveal important information about the car's past. Feel free to reach us online by using our contact form. You can also call us at: +1 (844) 268-5991 (8:00 AM – 3:00 PM EST, Monday to Friday). We are happy to help you and answer your questions!