Every federal state in the USA has its own statements and regulations when it comes to license plates. It is obtained through the independence of local authorities on a variety of questions, including automotive-related issues. As examples, we can highlight specific fuel emission standards, car insurance, or "pink slip loan" rules and nuances established in some US states. Additionally, it is a more effective policy for the automotive standards delegation since it allows for adapting to local peculiarities.
The same applies to car registration plates in the USA. They have some distinctions and special characteristics in each state. In this article, we at ClearVin have decided to reveal the car license plate regulations and nuances in Texas. Let's clarify the subject in detail.
Fundamentals About Texas License Plates
Texas authorities implemented car registration plates and obliged local drivers to get their license plates back in 1907. Nowadays, a special authorized executive organization called the Texas Department of Motor Vehicles provides license plates for the local residents who own a motor vehicle.
As a supplement to the license plate, you can find a special automobile registration sticker. They both reflect key data like the VIN, the country of registration, and the license plate number itself. These details serve as the foundation for the information required by authorities and police to identify the vehicle or its owner. Additionally, they help protect your vehicle from fraud or theft. Another point is that when the Texas DMV issues you a license plate, it means that your vehicle meets all the ecological standards, including fuel emission regulations.
There are also some specific rules concerning license plates for different modes of transport. For instance, drivers should have both the front and rear registration numbers presented on most classes of vehicles. Those who do not meet the requirement can receive a fine that reaches $200. At the same time, antique cars, motorcycles, and trailers can have only the rear license plate installed.
Although local Texas regulations, which apply to car registration plates, play a leading role, the question of standardization also has an essential meaning here. In 1956, legal regulations aimed at number plate unification were enacted. It was a result of a special agreement between the United States, Canada, and Mexico that established the dimensions for vehicle license plates, excluding one for motorcycles, at 6 inches (ca. 15 cm) in height by 12 inches (ca. 30 cm) in width. As a result of the aforementioned factors, we have the Texas registration plate to identify vehicles.
Texas License Plate Types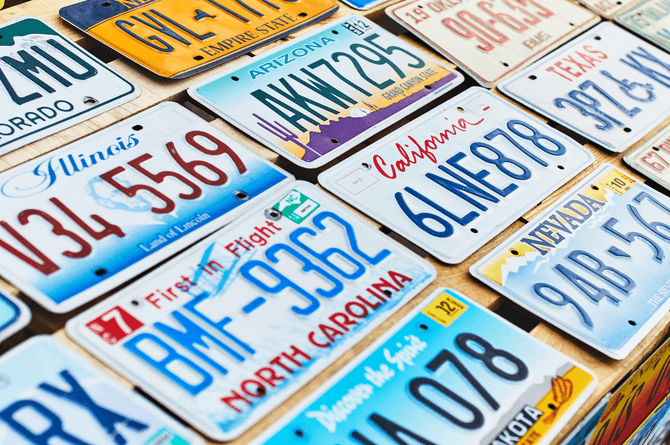 The authorities implemented a few special types of car license plates to distinguish vehicles with different purposes and owners. If we speak about Texas, you can find the following issued registration numbers:
The most common and standardized vehicle registration number with a simplified design is the general-issue car license plate (also known as the Texas Classic).
A personalized, or "vanity," plate is a unique type of vehicle registration number with its own design that a driver can select from the options provided by the authorities. The car owner should pay an additional fee when applying for this type of license plate.
There is also a particular group of license plates that are issued for a specific government service, such as diplomatic or military ones. They are issued in accordance with strict rules.
Specialty plates usually come in dozens of designs, each representing a particular and significant event in the state's life and dedicated to a specific date, person, etc. If we look at Texas specialty plates, this state can offer you more than 500 options to choose from. It is more than any other region in the United States has.
Each of the Texas license plate types mentioned has unique features and distinctions that any car owner should be familiar with.
Texas Car Temporary Tags
When it comes to unregistered vehicles at local Texas authorities, the question of how to make them legal on state territory arose. This problem was especially important for dealers or automobiles from states that do not have a mutual recognition agreement with Texas. That's how the paper's printed temporary tags appeared.
Vehicle temporary tags come in four varieties as of 2022. They are distinguished by their terms of validity. The first three are legitimate for 72 hours, 144 hours, and 30 days, respectively. The last one, called a "one-trip" tag, is used often for transit purposes. You can use it for 15 days and only if your vehicle is unladen and traveling from a single departure point to a single destination point, either of which must be in Texas.
However, unscrupulous individuals use temporary car tags to avoid expenses for road usage and paying other fees. Typically, vehicles with such labels are untraceable and aid in committing crimes. Swindlers receive access to the special Texas DMV databases because of issues with the security standards when applying to the authorities as a dealer. It allows them to compile temporary car tags and sell them, making money. This problem is so common that fraudulent individuals sold more than one million counterfeit Texas car temporary labels last year.
Texas Registration Plate Examination
If you have ever bought a car, then you must know that a seller always tries their best to present the vehicle and put it in the best light. Often, it also means hiding some unpleasant moments concerning the automobile's technical condition or its history. That is where a license plate lookup can help. Especially if you are a used car dealer or a participant in online salvage vehicle auctions.
ClearVin is one of the entrusted interactive services involved in the vehicle registration plate examination. With over ten years of experience, we hold market-leading positions with the best price-quality ratio. You will receive a comprehensive vehicle background data package when using our Texas license plate search. It includes detailed car specifications, ownership history, actual mileage, an overview of title registration changes, car recall records, and much more.
Aside from that, conducting a license plate lookup with ClearVin allows you to find out whether a car has been in an accident or if it has previously been stolen. These details are essential when buying a used vehicle. Sellers often conceal the aforementioned pieces of information because they influence the vehicle's value. That is where ClearVin can serve you well. This useful data revealed through license plate lookup will assist you in selecting and verifying the condition of your next desired automobile.
You can conduct a thorough license plate lookup for free before acquiring your next wanted car. It allows you to ensure the vehicle has a clean history with no major concerns in the past. Along with that, our platform for conducting a license lookup, including one for Texas registration plates, is user-friendly and easy to use. All you need to do is enter the license number and state code. ClearVin has made Texas car plate decoding as easy as pie by applying the most innovative software solutions.
Advantages of Texas License Plate Decoder from ClearVin
We allow you to learn all the details about the history of a used vehicle by using the Texas license plate decoder online. There are numerous benefits you get when choosing our services.
First, our terms of data privacy allow for avoiding leaks, VIN cloning, and other types of information fraud. Thus, you don't need to worry about data protection.
Moreover, we cooperate with the main and trustworthy organizations in the vehicle data collection field, such as the National Motor Vehicle Title Information System (NMVTIS), National Highway Traffic Safety Administration (NHTSA), J.D. Power, Black Book, and a few more. It means we provide only relevant and verified records in our license plate lookup.
Another benefit of such wide and close business ties is that they also allow us to provide our customers with bulk access. This offer is especially attractive for used car dealers or participants in online auto auctions since it gives you a great number of vehicle history reports for a decent price. It is extremely challenging to find offers with such a beneficial price-quality ratio.
As a result, due to our rich experience, vast partnership ties, and comprehensive approach, you can obtain a complete data package for any car and ensure that you are purchasing a vehicle that meets your expectations.
Conduct Your Texas License Plate Lookup with ClearVin!
Texas vehicle registration numbers have some nuances and distinguishes every American car enthusiast must be aware of. In our article, we have provided an overview of the local car license plate functioning.
At the same time, ClearVin not only provides useful information concerning complicated automotive topics. We are also happy to offer a well thought out and practiced solution when it comes to vehicle background examination. Such tools as a VIN decoder, license plate lookup, window sticker review, and a few others are at your disposal! With the mentioned services, you can get all the details concerning any used vehicle in a few clicks. It is especially handy for those who participate in online car auctions, such as AutoBidMaster.
With ClearVin, you can examine Texas license plates too, revealing all the vehicle data effortlessly. Feel free to reveal car specs by VIN and keep yourself up-to-date. If you have any questions or requests, feel free to reach us online by using our contact form. You can also call us at: +1 (844) 268-5991 (8:00 AM – 3:00 PM EST, Monday to Friday). We are happy to lend you a hand!