California is considered the most automotive state in the U.S. According to the statistical data, there were more than 14.2 million vehicles registered by the local DMV institution. If you are looking for a used car to buy in California, then it would be a great idea to perform a free license plate lookup. It allows you to avoid buying a completely broken automobile that is unsafe to drive. We at ClearVin have great options for vehicle background lookup, including a California VIN decoding solution. Let's discover all the key points necessary to know when checking the history of a car registered in California.
Something to Know About California License Plates
California number plates are issued by the California Department of Motor Vehicles (DMV) and are required to be displayed on all vehicles registered in the state. California license plates consist of a combination of letters and numbers and have a distinct design that includes the state name and a unique serial number.
Every state in the US has its own standards and regulations, including classification, when it comes to vehicle license plates. Here are some common types of California license plates:
Standard plates: These are the most common type of license plates in California. They have a white background with blue letters and numbers, and the state name is displayed at the top of the plate.
Special interest plates: California offers a wide range of special interest license plates that allow drivers to support various causes, organizations, and hobbies. Thus, a portion of your license plate fees goes for a donation to charity institutions or causes, supporting what you are interested in. These plates have unique designs and colors that reflect their specific themes.
Personalized plates: Drivers in California can also choose to personalize their license plates by selecting a combination of letters and numbers that is not already in use. Personalized car plates can also have custom backgrounds or graphics for an additional fee.
Disabled person plates and placards: These plates and placards are issued to drivers and passengers with disabilities and allow them to park in designated disabled parking spaces.
Temporary operating permits: These are temporary license plates issued to new vehicle owners who have not yet received their permanent license plates from the DMV. They are valid for a limited time period and must be displayed on the vehicle until the permanent plates are received.
License plates are an important part of every motor vehicle, providing a way for cars, motorcycles, and other means of road transportation to be easily identified and tracked. This also applies to different types of number plates that help to classify various groups of drivers and vehicles.
Why You Should Consider a Free License Plate Lookup for California
When buying a used vehicle, you can learn a lot about the car from its previous owner. However, there is no 100% guarantee that you will receive all the accurate and relevant information. Often, sellers are trying to hide some vulnerable details that can influence the car price. For instance, these would be previous thefts, unpaid "pink slip" loans, or vehicle odometer rollbacks. To avoid such issues, you can perform a California license plate lookup to get all the facts you need to find out more about a car and its proprietor.
We agree that it could be challenging to find a trustworthy and accurate VIN decoding solution. If you don't want to pay for the results of your quest or you are scared to buy something sight unseen, you may be able to discover services that offer a California license plate lookup for free. A VIN decoder from ClearVin will serve you right. Our simple user interface allows you to check a vehicle history effortlessly. Take a glance at our website to familiarize yourself with our VIN decoding services, including a free license lookup for California.
It's important to note that license plate lookups should only be done with good intentions. The information provided by a license plate lookup is sensitive and should be handled with care. Therefore, always be sure to use license plate lookup services responsibly and make sure to use a trustworthy company that meets the legal requirements for data protection.
Overall, license plate lookups can be a valuable tool for those who need access to information about vehicles or the people who own them. While the details provided can be limited depending on the source, the data can still be useful in a variety of situations. It is critical, however, to always use license plate lookup services responsibly and to make sure to use a trustworthy source.
How to Conduct a California License Plate Lookup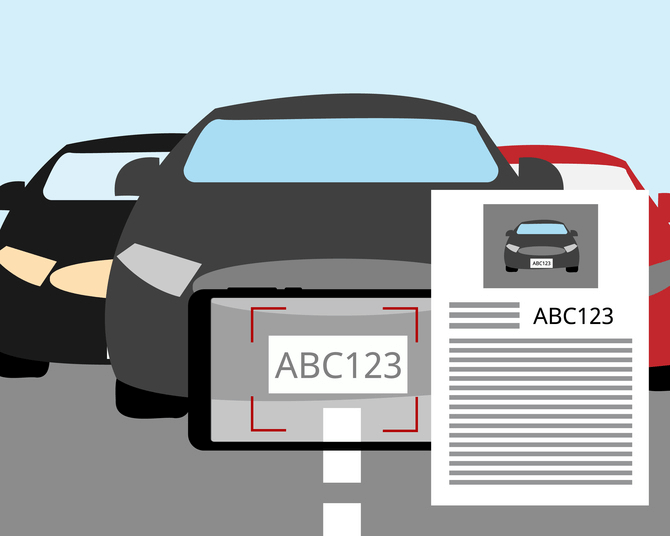 California license plate decoding can be useful for a variety of reasons. From learning who owns a car to revealing some hidden data that could have remained secret during the sale or saving time at the DMV, the ability to search for information can be invaluable. Fortunately, there are a few options to get all the necessary data concerning vehicle history.
Use the California DMV Services
In California, access to license plate data falls under the California Department of Motor Vehicles (DMV). They provide a vehicle registration search that can be used to look up a California license plate. Understandably, access to this data is restricted.
If you're looking for basic information about a California license plate, you can start by visiting the California Department of Motor Vehicles (DMV) website. The DMV allows you to search for vehicle information using the license plate number or the Vehicle Identification Number (VIN). In order to look up a license plate, the DMV also requires that you provide your name and California driver's license or ID number.
However, the DMV's service is also limited in terms of the VIN information it provides. The system can't present criminal or driving records to motorists. It also won't reveal the vehicle owner's, including previous proprietors', address. Instead, it can only provide confirmation that the vehicle is registered to the license plate number you entered.
The DMV search also has no restrictions on who can use it or how often. This means anyone can look up a license plate, whether it is for a friend, a co-worker, or a family member. At the same time, the VIN data package from the local DMV institution that reveals vehicle history is not enough to meet a motorist's needs and demands in most cases.
Check a Vehicle History With a Third-Party VIN Data Provider
If you require more detailed information about a vehicle, such as car ownership history by VIN or accident reports, it can be necessary to use a third-party service. However, keep in mind that such solutions may require a fee and can have limitations on the information they provide. It's important to use caution when utilizing third-party services and to ensure that you have a legitimate reason for accessing the information.
There are several sources for looking up license plates online in the United States. Bear in mind that not all states have the same rules surrounding access to license-plate data. So, be extremely attentive and conduct your own research on the vehicle history examination before submitting your request to any VIN data decoder. It's always better to be safe than sorry, so become acquainted with all the specific regulations and standards established in each state of the United States. At the same time, you can rest assured and receive all the relevant and up-to-date vehicle history data in a few clicks by using the ClearVin services.
Why to Perform Your California License Plate Lookup With ClearVin
In the modern age, it's easier than ever to do a license plate lookup. All you need is access to the Internet and the license plate number, as well as a trusted and reliable VIN data provider like ClearVin.
With ClearVin, conducting a California license plate lookup is as easy as pie due to a bunch of benefits we provide to our customers. For instance, we provide a VIN check in a matter of a few clicks. Just enter the necessary piece of data, and the results will be ready. Furthermore, you can use not only a California license plate but also a VIN code to get your vehicle history report.
When conducting a California license plate lookup, we use only reliable and relevant VIN record databases from our entrusted and officially recognized partners, like the National Motor Vehicle Title Information System (NMVTIS), the National Vehicle Service (NVS), and much more. You can also be sure that we keep high standards for data privacy, so you will not experience any information leakage.
Another key benefit we offer is the fullness of our VIN history reports. ClearVin provides information not only about vehicle specifications but also ownership history, odometer reading, insurance, loan, and theft records, etc. You can study our free vehicle history report sample.
We have a list of other advantages, like bulk access, dealership and affiliate programs, and much more, that make us competitive in the VIN data provider market. With us, you can be certain that all concerns will be addressed. It is obtained through collaboration with several official VIN data providers and other related institutions, as well as the high level of professionalism supplied by our specialists.
Choose ClearVin for a California License Plate Lookup!
There are several websites that offer California license plate lookup services. However, not all of them provide high-quality number plate decoding. We at ClearVin have taken into consideration all the customer needs and possible pitfalls that can be experienced during the vehicle history examination. As a result of more than 10 years of expertise, you can perform California license plate decoding effortlessly.
If you want to experience only positive California license plate lookup outcomes without delays, data leaks, hidden fees, and other obstacles, we encourage you to use the ClearVin services. With our auto history check, you can be sure of the information relevance available in the databases. For bulk access, check the motor vehicle reports we provide to dealers. If you have any questions, feel free to email us at [email protected] or call us at: +1 (844) 268-5991 (8:00 AM – 3:00 PM EST, Monday to Friday).